IINO LINES, J-Power and Norsepower collaborate to install world's first rotor sail on a dedicated coal carrier
IINO LINES, J-Power and Norsepower collaborate to install world's first rotor sail on a dedicated coal carrier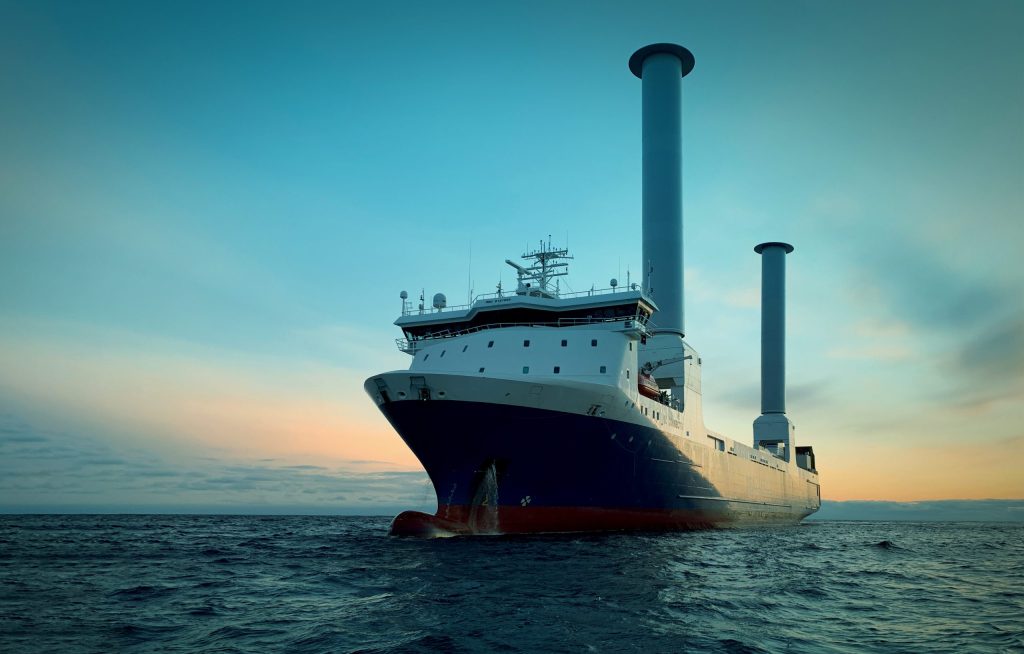 IINO Kaiun Kaisha, Ltd. (Head Office: Chiyoda-ku, Tokyo; President and Representative Director: Yusuke Otani; hereinafter "IINO LINES") and Electric Power Development Co., Ltd. (Head Office: Chuo-ku, Tokyo; Representative Director President: Hitoshi Kanno; hereinafter "J-POWER") have agreed to install a Norsepower Rotor Sail™ (wind propulsion auxiliary device) manufactured by Norsepower Oy Ltd. (Head Office: Finland; CEO: Tuomas Riski; hereinafter "Norsepower") on the dedicated coal carrier YODOHIME (completed in February 2016).
This is the world's first use of the Norsepower Rotor Sail™ on a bulk vessel that is dedicated to coal cargoes, and the installation will take place in Q3 2024.
The Norsepower Rotor Sail™ (24m high x 4m diameter) is an innovative modernised version of the Flettner rotor. It uses the vessel's electric power to rotate the cylinder-shaped rotors on the deck. These rotating sails use the wind to generate powerful thrust, resulting in the reduction of fuel consumption and CO2 emissions by approximately 6-10% in combination with the navigation optimisation system.
This is the second vessel for IINO LINES following a Very Large Gas Carrier (VLGC) to be equipped with the Norsepower Rotor Sail™ and the company will continue to actively promote initiatives for clean marine transport services to become carbon neutral in line with the theme set out in the mid-term management plan, "The Adventure to Our Sustainable Future."
This is the second time that J-POWER has installed a wind propulsion auxiliary system on a dedicated coal carrier. J-POWER will continue to take on the challenge of achieving carbon neutrality as set forth in J-POWER's "BLUE MISSION 2050" in February 2021.